28 Days of Love Competition
Give The Ultimate Gift To Somebody Special And Nominate Them To Win Complimentary Hearing Aids As Part Of Our 28 Days Of Love Competition
February is typically a time when we show a little extra love. 
But unfortunately, thousands of people in our local community aren't going to be able to appreciate that time because of an untreated hearing loss.
People who have a hearing loss aren't able to communicate as well as they once could. We all know that communication is an essential part of a good relationship, and if you can't communicate properly, it can cause relationships to break down.
Not only that, but when you can't hear a conversation properly, it can be frustrating and even embarrassing.  For many, hearing loss goes untreated due to not having the financial means to purchase hearing aids, or the person affected might be refusing to accept that they may need help. 
Since opening our doors, a big part of our DNA has been giving back to our local community.
That's why, this Valentine's Day, we want to help by gifting FOUR people with a complimentary pair of hearing aids.
If you have a friend or loved one that you believe would benefit from hearing aids, then you can nominate them to win by completing the form on this page sharing their story.
On February 28, we'll be closing nominations and selecting the lucky winners that will be announced shortly after.
The winners will be invited to have a comprehensive hearing assessment and be fitted with premium hearing aid technology. We can assure you they'll feel extremely loved!
We wish you the best of luck!
Nominations Close In.......
Valentines Hearing Aid Giveaway Competition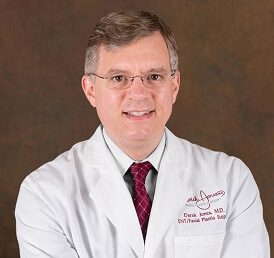 Inga Barnes
Clinical Audiology Assistant
Brynn Ashmore
Audiologist
Joel was nominated by his wife Melissa. She wrote about her hardworking husband who has endured a lot throughout his life.
He is a business owner who works with heavy equipment and loud shop tools, which has compromised his ability to hear.
Not being one to complain, Joel continued to work and deal with the hearing loss until he could afford hearing aids.
But then Hurricane Katrina hit in 2005, the economic recession loomed in 2008, and, most recently, the Covid pandemic ran across the world in 2020. Each of these events hurt Joel's business and he did not have enough money left over to purchase hearing aids for himself.
Through the 28 Days of Love campaign, this hardworking community member was able to finally get the hearing healthcare he desperately needed.
– Joel Bonds Jr.
The second winner of the 28 Days of Love campaign was nominated by two close friends who couldn't speak highly enough about Kristina.
Kristina Herring has endured hearing challenges since her childhood, and her hearing has continued to deteriorate as she has gotten older.
Naturally, as any mom knows, she has put her young family ahead of her needs and thus has not gotten the hearing healthcare she deserves.
Not only is Kristina a mom of two young children, but she is also a fulltime office manager for a veterans office.
She works fulltime in order to put food on the table and keep a roof over her children's heads. Kristina knew that she needed hearing aids, but she just hasn't had the money to put her needs first.
Now, through the 28 Days of Love campaign, Kristina received a pair of hearing aids and has a clinic that is looking out for her hearing health.
– Kristina Herring
The third winner is Betty Taylor. Betty was nominated by her loving daughter who wrote about the amazing woman she is lucky to call her mother.
Betty has struggled with a hearing loss for a couple of years. She lost her husband in 2018, but instead of letting the loss of her spouse keep her down, Betty began taking care of others.
Betty has the gift of encouragement and compassion. She spends hours writing cards to people who are sick and need cheering up. She makes an impact on others because of the way she loves and cares for them.
Not only does Betty have a love for those who are hurting, but she has a special place in her heart for children as well. Her daughter could not write enough about how caring and loving her mom is.
When Betty was fitted for her hearing aids, her audiologist described her as "beaming." Betty was so grateful for the gift of hearing and is now a part of the Hearing Center family.
– Betty Taylor
Whether you're concerned about your hearing or a loved one's hearing, it's often the small questions and challenges that prevent us from making critical decisions to change. That's why we have a team of hearing experts available to help. Simply complete this form and one of our experts will call you back shortly for a friendly no-obligation conversation to answer any questions that you may have.
Every day, we receive questions from people in the Pensacola and Gulf Breeze communities who are concerned about their hearing or the hearing of a loved one or family member. And as much as we love giving our professional advice, sometimes it's beneficial to hear from...
"How much do they cost?"
It's one of the first questions you're likely to ask when your audiologist suggests hearing aids.
Though it's a legitimate question, it's not one that is easy to answer right away, as you have probably figured out while doing your research. There are several reasons for that.
Experiencing hearing loss affects more than just our auditory perception. Recent studies, subjected to rigorous scientific review, reveal a concerning correlation between untreated hearing loss and cognitive decline, underscoring the broader consequences of neglected...