Our unique line of work means we meet people from many walks of life. It's one of the best parts of our job that we get to speak with people from all over who have many different interests. 
Because of this, we get all the insider knowledge of what's happening in and around Pensacola, FL.
Since 2009, when The Bridge Bar opened, we have been big fans. Now that we have a location in Gulf Breeze, FL, just down the road, it's even more convenient to visit our favorite place! 
Not only do they provide great food and atmosphere, but they also feature some excellent music. 
Music Lovers Rejoice
One of the main reasons we love The Bridge Bar so much is the music they offer from right here in our very own community. 
The EastHillbillies are a local band that has formed within the last year, and we can't get enough. Lead vocalist, Andrea Housand, works as a practice coordinator for Derek Jones, M.D., one of our ENT physicians at The Hearing Center.
Small world, isn't it?
On April 9th, The EastHillbillies played at The Bridge Bar. Dr. LaBorde, Dr. Richards, one of our ENTs Dr. Jones, and Inga, our audiology assistant, went out to support both The Bridge Bar and Andrea Housand—Dr. Jones's practice coordinator. 
The EastHillbillies are upbeat and quirky, and you can't help but have a great time listening to their rock-a-billy, 80s style. Follow the EastHillbillies on Facebook to know where they will play their next gig!
Great Music Pairs Well with a Great Menu
What would a night out be without a bit of indulging? If you're in the mood, the skilled bartenders offer a great cocktail menu with something for everyone. Their wine list is impressive as well, boasting over 15 selections. 
My Favorites
They also have a list of bar snacks that have some pretty unique items worth trying. You always need a snack with your beverage, so I recommend trying the boiled peanuts or the smoked tuna dip. They're great for sharing, so you can surely order both with a bit of help.
Pro Tip: Locals love The Bridge Bar, so don't let the parking fool you if it
looks busy. Find a spot anyway, as there is always plenty of room on the outdoor deck.
Why the Locals Love it So Much
With so many reasons to love this place, there is always one that keeps us coming back for more. The drinks, food, and entertainment aside, there's nothing like a classic Bridge Bar sunset. 
The most beautiful sunsets can be seen from the outdoor deck every day (Florida weather permitting). The friendly staff and excellent service are the cherry on top of a great local establishment. 
When they have local music—like our beloved East Hillbillies—a beautiful sunset, delicious food, and drinks, all of our senses are excited, and we can't wait to do it all over again very soon.  
Local Knowledge, Shhh
When listening to live music—like The EastHillbillies—please remember to protect your hearing.
Dr. Richards is an avid live music listener, and she came prepared for the live show. These custom-filtered hearing protection devices are available at The Hearing Center.
Our greatest asset against hearing loss is always prevention.
Taking this little precaution will protect your hearing over the long term so you can continue to effortlessly enjoy places like the Bridge Bar for years to come.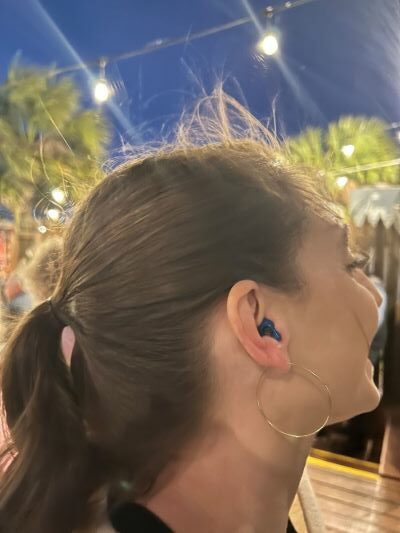 Get More Info Here
Check out the full menu at Bridge Bar to plan your next visit. Who knows, we might run into you, and, if so, we want to hear about all the good times you've had there as well.