Advanced Prescription Hearing Aid Technology
Assistive Hearing Technology
to Achieve More Clarity in Hearing
Communication with clarity is an essential element for those who desire to live a rewarding, independent lifestyle. A prescription hearing aid can provide individuals with a hearing loss the capacity to continue with their active lifestyle without missing a step.
If a prescription hearing aid is part of your treatment plan, making the right choice can be overwhelming. Our team understands your difficult decision and we are here to help. Through accurate testing, professional guidance, and the consistent follow-up care provided by The Hearing Center of MCC, we make a big difference when it comes to making an investment into hearing aids and hearing healthcare.
Streamlined, extremely user-friendly, and so discrete that few people will know that you are wearing one are common features of today's advanced hearing aid technology.
Forget those bulky objects your grandparents had to wear, because innovations in micro-digital technology have produced higher-level performance in smaller packages. Advanced material technology has made today's prescription hearing aids more comfortable as well as providing the capacity to match your skin tone, making them all but invisible.
"One size fits all" prescription hearing aids are outdated. You have choices, which include features, such as connectivity options and a broad range of apps, providing the capability of fine-tuning your device from your smartphone or streaming phone conversations directly to your hearing aid.
Along with helping you to choose the option that fits your preferences and accommodates your better hearing goals, our expert team provides top-level fitting, adjustments, and ongoing follow-up care.
If a prescription hearing aid is the best means of accomplishing your better hearing goals, rest assured that The Hearing Center at Medical Center Clinic has access to the most advanced hearing aid technology available from brand name manufacturers such as Widex, Oticon, Phonak, ReSound, Signia, Starkey, and more.
I would like to express my greatest confidence and thanks to Brynn Ashmore AuD. My recent appointment with her was outstanding. I was welcomed quickly and professionally. She has a professional attitude and friendly personality. She helped me with adjusting my hearing aids and refitting to my ears. Her aim was to guarantee my satisfaction which she fully accomplished. Brynn is an example of what all MCC professionals could become. Again she represents MCC in an outstanding manner.
The Different Styles of Prescription Hearing Aid
Invisible-In-Canal (IIC) – Tiny & Often Invisible
Patients with mild to moderate hearing loss can take advantage of IIC hearing aids. Custom-formed to the contours of your ear canal, these devices fit deep into your ear canal and are available in a choice of colors, allowing for near invisibility – an advantage for the self-conscious wearer.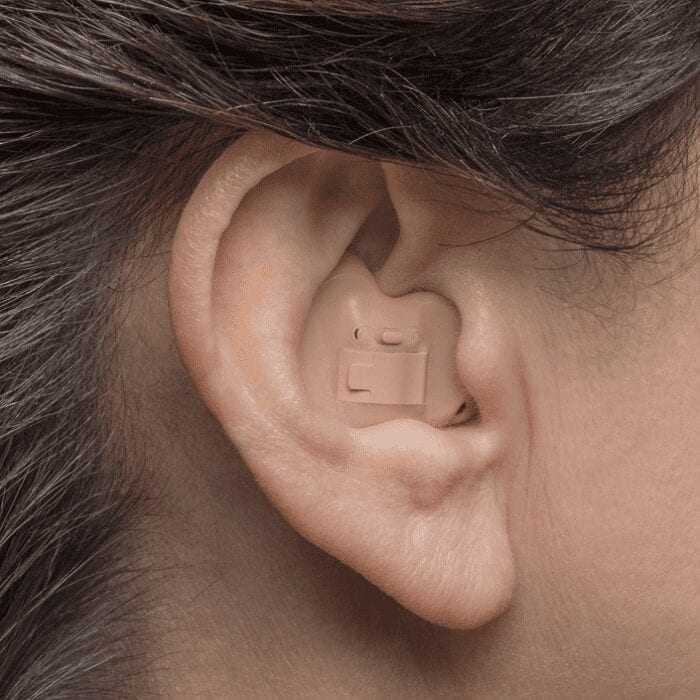 In-The-Ear (ITE)
ITE hearing aids are for patients with mildly severe to severe hearing loss. Their sleek design fits the contour of the outer ear canal. Wearing comfort, maximum hearing coverage, a variety of colors, custom made to match your skin tone, and connectivity options are also features of this style choice.
Completely-In-The-Canal (CIC)
The CIC hearing aid is a viable option for patients who suffer from mild to severe hearing loss but are still a bit self-conscious about wearing a hearing aid. These provide a more powerful performance built into a casing that is slightly larger than the IIC style choice.
Receiver-In-The-Ear (RIC)
A favorite of many audiologists due to their adaptability, RIC style hearing aids provide high-level performance for patients with severe hearing loss, while facilitating in-office repairs and amplification upgrades. Lightweight design, full-spectrum smartphone streaming, and color choices are features of this model.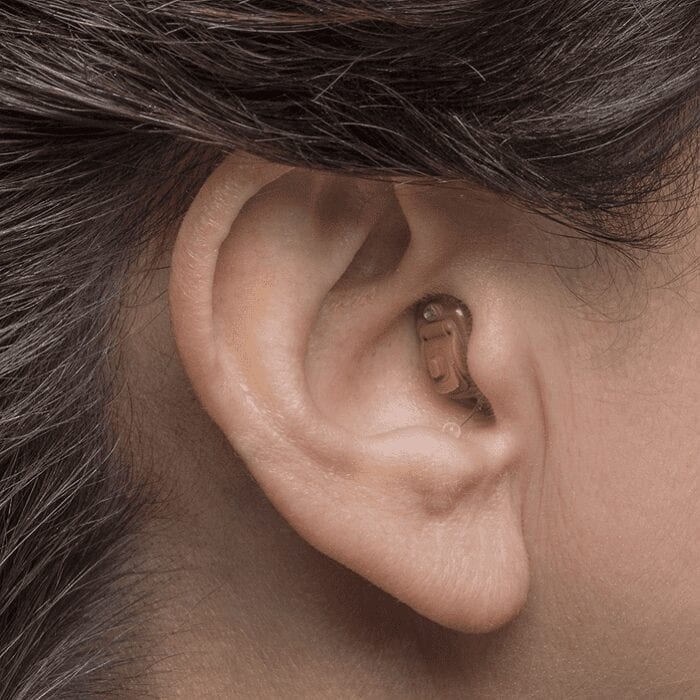 In-The-Canal (ITC)
An additional option for patients with mild to severe hearing loss includes the ITC hearing aid. Slightly larger still, this hearing aid includes a higher level of performance, uses size 312 batteries, and provides users with the necessary wireless capabilities for smartphone connectivity and streaming.
Behind-The-Ear (BTE)
When additional performance capabilities are necessary for patients with severe to profound hearing loss, BTE style hearing aids provide an adequate solution. Although not invisible, color choices can match your skin tone, they are lightweight, user friendly, and include full-spectrum smartphone streaming capabilities.
Request a Callback
Whether you're concerned about your hearing or a loved one's hearing, it's often the small questions and challenges that prevent us from making critical decisions to change.
That's why we have a team of hearing experts available to help. Simply complete this form and one of our experts will call you back shortly for a friendly no-obligation conversation to answer any questions that you may have.
Don't want to wait? Then why not call us at your nearest office